Distribution and trends
Distribution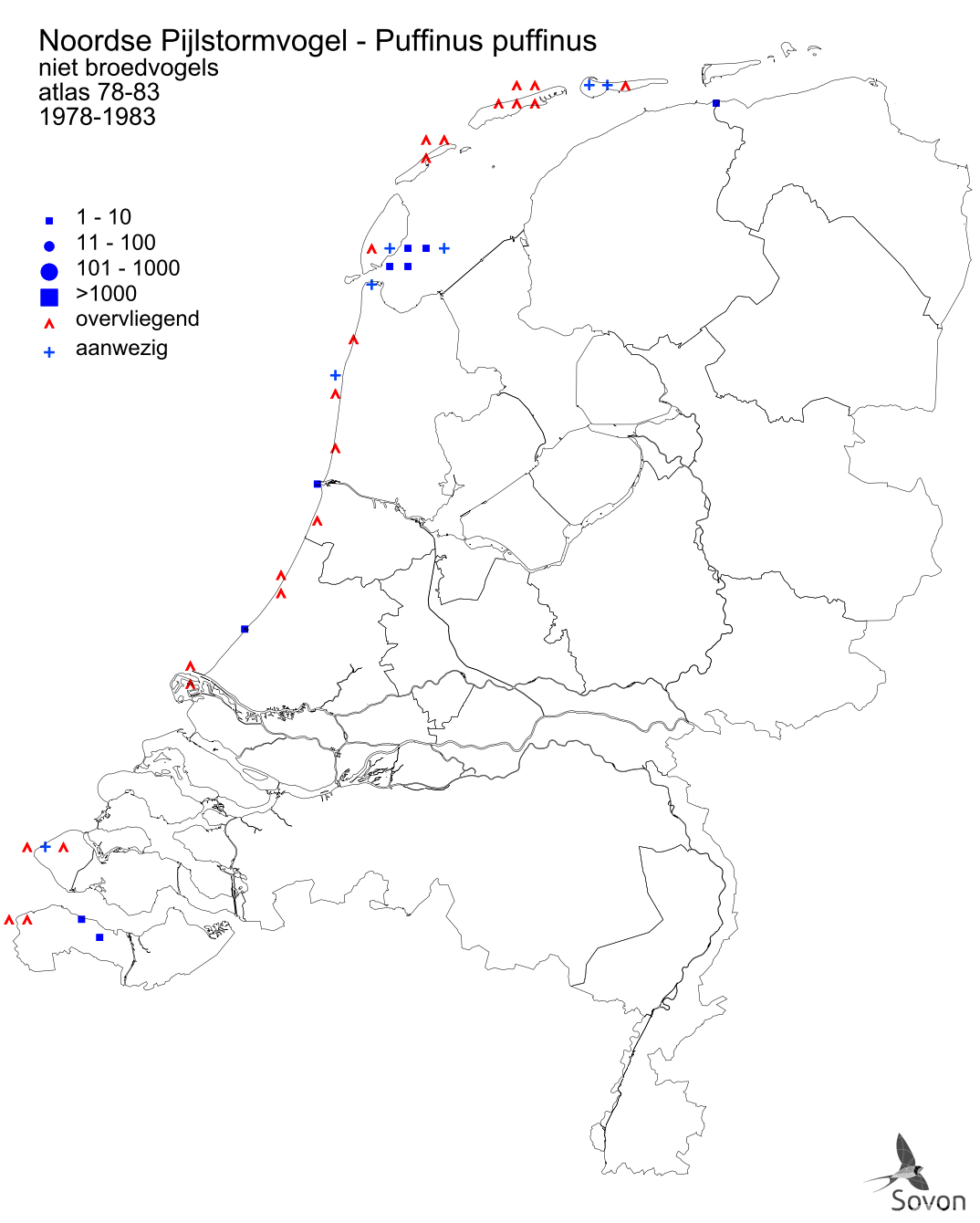 This chart is based on the Atlas of the Dutch Birds (1987), an estimate of the numbers present is given for each atlas square of 5x5 km.
Population trends
seabird trend
Data derived from systematic counts of migrating individuals. For each season, the hourly average number of birds (red dots), the trend line (dark blue) and associated standard error (light blue lines) are given. Seasons run from July to June.
vanaf 1980

no significant change in numbers (0)

laatste 12 jaar

significant decrease, <5% a year (-)
Breeding success and survival
Seasonal occurrence
seasonal pattern
Data derived from systematic counts of migrating individuals. Shown is the monthly average number of birds for for the last five seasons. For each month is indicated which part is counted flying to the left or to the right.
Conservation status
The Manx Shearwater is protected under the European Birds Directive and the Nature Conservation Act. No Natura 2000 areas have been designated in the Netherlands for this species.
non-breeding bird
The conservation status of the Manx Shearwater as non-breeding bird in the Netherlands is unknown.
State of Conservation Assessment
Population
Distribution
Habitat
Future
Final verdict
unknown
unknown
favourable
favourable
unknown
How is the conservation status determined for species for which no Natura 2000 sites have been designated?
Occurrence description
Buiten broedtijd
Noordse Pijlstormvogels vertonen zich voor de Nederlandse kust van juni tot en met oktober. Bij krachtige aanlandige winden worden soms enkele tientallen per dag gezien op de zeetrektelposten. Waarnemingen in juni-juli beperken zich grotendeels tot de Noord-Hollandse kust; tijdens een trekpiek in september en de eerste helft van oktober zijn waarnemingen ook elders langs de kust mogelijk. Waarnemingen in het binnenland zijn extreem zeldzaam, al vertoont de soort zich af en toe diep op de Westerschelde.
Counting guidelines
No counting guidelines available.
External links (2)