Distribution and trends
Distribution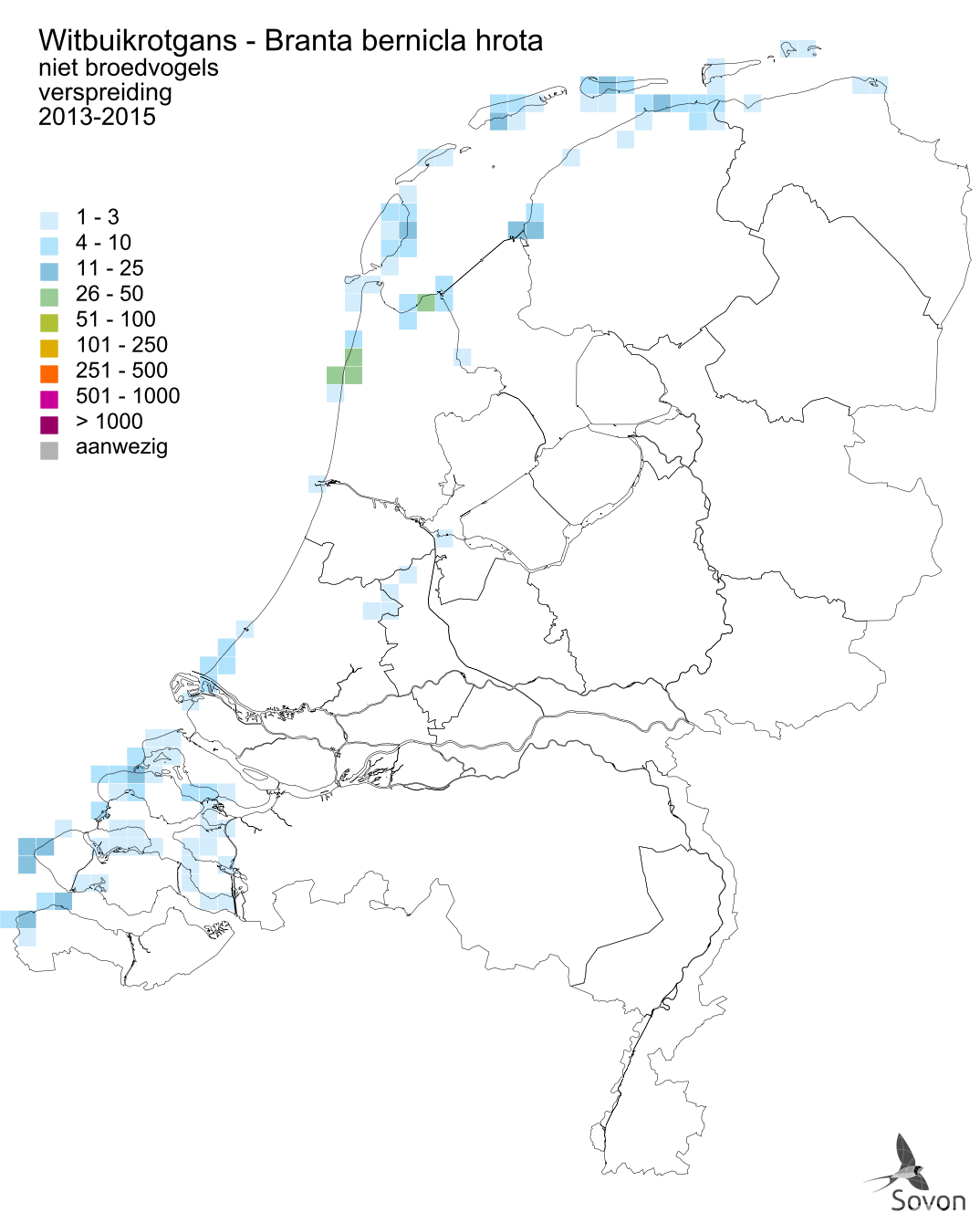 This map is derived from the Bird Atlas of the Netherlands (Sovon 2018). For each atlas square of 5x5 km, an estimate for the number of wintering birds is given.
Population trends
The data comes from the Waterbird Monitoring Network. For each season, the average number of birds (red dots), the trend line (dark blue) and associated standard error (light blue lines) are given. Seasons run from July to June.
vanaf 1980

significant increase, < 5% a year (+)

laatste 12 jaar

no detectable trend (~)
Breeding success and survival
Seasonal occurrence
seasonal course
Data derived from waterbird monitoring scheme (mostly monthly counts during winter). Shown is the monthly average number of birds for for the last five seasons. For each month is indicated which part is counted and what part is estimated (calculated using statistical methods). The red line shows the multi-year mean. This is the average over all months of the season, from July to June of the last five seasons. Months without estimation (indicated by ?) it is assumed that there were no birds.
vanaf 1980

significant increase, < 5% a year (+)

laatste 12 jaar

no detectable trend (~)
Conservation status
The Pale-bellied Brent Goose is protected under the European Birds Directive and the Nature Conservation Act. No Natura 2000 areas have been designated in the Netherlands for this species.
non-breeding bird
The conservation status of the Pale-bellied Brent Goose as non-breeding bird in the Netherlands is favourable.
State of Conservation Assessment
Population
Distribution
Habitat
Future
Final verdict
unknown
favourable
favourable
favourable
favourable
How is the conservation status determined for species for which no Natura 2000 sites have been designated?
Occurrence description
Buiten broedtijd
Witbuikrotganzen zijn meestal schaarse wintergasten. Tijdens felle koude in de vaste overwinteringsgebieden in Denemarken of Noordoost-Engeland wijken soms enkele honderden naar Nederland uit. In uitzonderlijke gevallen, zoals de winters van 1995/96 en 2010/11 gaat het om rond 850 vogels, eentiende van de internationale populatie. De Witbuikrotganzen houden zich bijna unaniem op langs de kust, met een voorkeur voor het Waddengebied, de Hollandse kust en het Deltagebied. Het zwaartepunt van de verspreiding ligt bij vrijwel alle influxen in de Kop van Noord-Holland en de westelijke Waddenzee. Waarnemingen van geringde individuen laten zien dat het deels om dezelfde, zich verplaatsende vogels gaat.
Counting guidelines
No counting guidelines available.
Publications (1)
External links (2)